Liventus builds eCommerce websites that are more than just eye candy. Functionality, security, and responsiveness play a huge factor in creating a positive online customer experience.
Kande Hall is the sole designer behind the vintage forward fine jewelry brand, French Kande. The line features French vintage medallions she discovered during her travels throughout France. Timeless in its design, Kande's jewelry speaks boldly, yet it is undeniably feminine. French Kande had moved to Magento 2, but the website was unresponsive. They needed a partner to help optimize their technology and design to serve their high-end B2B and B2C clientele.
Liventus came in and fixed instability, speed, and some custom features that were not functioning.
Click to view the French Kande case study to see examples of how Liventus technology and user interface design helped transform their eCommerce business.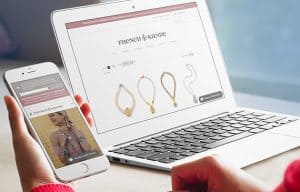 Is a poor checkout process for your eCommerce business costing you sales?
Register for our webinar to learn how to optimize your checkout to help drive your business forward. We'll cover how to reduce cart abandonment by creating a seamless, quick and safe checkout experience.
Click to sign up for the webinar: Optimize Your Checkout Experience
June 25th | 12:00 CDT
Hosted by Tim Dolloff