Introduction
Ever wondered why your website visitors are adding products to their cart but still leaving the website without purchasing the products? Your site might be suffering from cart abandonment.
According to a definition on Webopedia, cart abandonment is an eCommerce term that describes when your site's visitor bounces before buying your product. Usually, the visitor adds items to the cart but leaves before finishing the checkout process. An example of cart abandonment includes a visitor exiting the website before signing up for the newsletter or leaving before downloading the incentive or any running offers and promotions.
High Cart Abandonment Statistic
In one of the studies conducted by Baymard.com, cart abandonments can go as high as 81.4% of the total traffic coming on your website. While this is an average of hundreds of retailers in many industries, it's still a significant number that cannot be ignored.
In this article, we will explore the reasons for cart abandonment and see some ways of preventing it.
Reasons for cart abandonment during checkout process
A recent survey by Baymard looked at the reasons for checkout abandonment, which is slightly different from cart abandonment. The stats below represent customers that have added items to their shopping carts but haven't gone on to buy. They may have entered checkout before bailing out, but many won't have made it that far. Whereas the Baymard data below looks at only those who begin checkout before they abandon a purchase, and why they bailed out.
That means roughly seven out of every 10 shoppers won't complete their transaction—a number many e-commerce store owners find troubling. However, these stats show that cart abandonment can be due to both user experience issues and operational. In this article, we will try to look at challenges caused by poor user experience leading to cart abandonment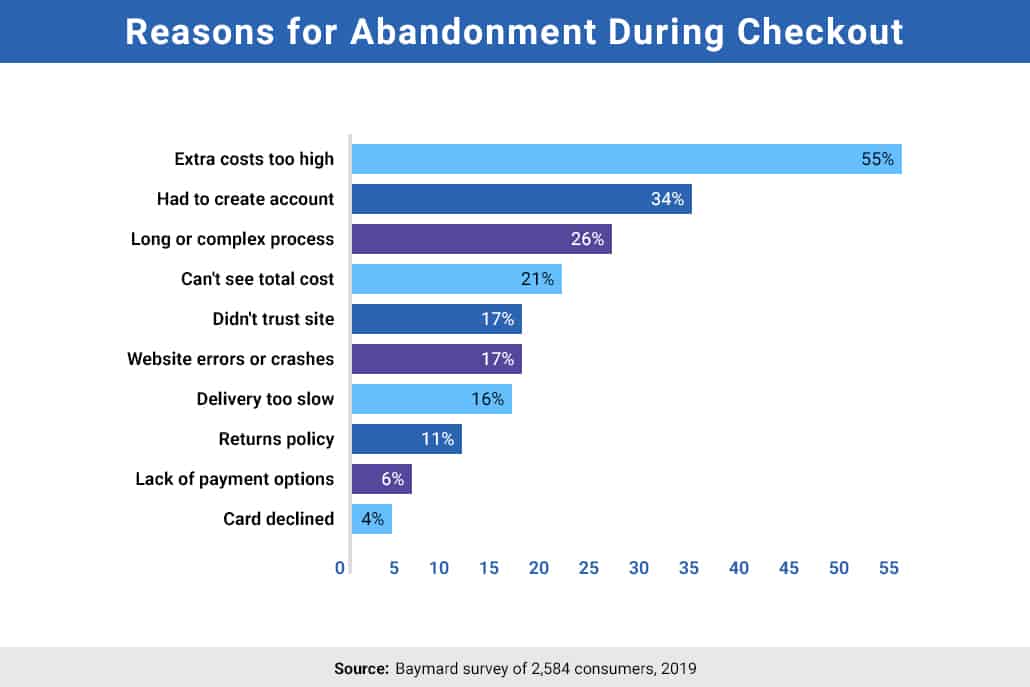 Why does a customer abandon their cart?
The checkout process is the last step of the buying experience. In the cart section, a customer re-evaluates their purchase and decides whether to complete the purchase or not based on many factors.
There are many reasons that make the customer decide not to go through with the purchase.
Most common causes are:
High additional costs: It's particularly important for websites to be transparent about shipping costs and additional benefits. Adding a small notification on the product page itself lets your customer know their item is exclusive of additional costs such as taxes, services charges, delivery charges etc.
No guest checkout: Some of the website forces the visitor to create an account before making a purchase. This is one of the biggest factors of cart abandonment. Allow your visitors to checkout without creating an account so they can buy quickly.
Complex checkout process: It's a proven fact that a customer's attention span is short. According to a Microsoft study, today the rules of grabbing your customer's attention have changed because digital consumers are extremely impatient. Therefore, the checkout process should be kept fast and simple with the least number of pages to allow the customer to checkout smoothly. We recommend
Estimated delivery: The biggest challenge with most business going online is 'Your competitors are offering same day delivery, are you?' Long delivery times tend to deter the user from buying.
Site trust: Visitors on an e-commerce website generally refrain from entering their card information on an untrusted website. Adding a trusted SSL goes a long way. We can help you ensure payment processing is PCI compliant and that your customers' personally identifiable information (PIN) is fully protected.
Avoid website errors: Making sure that there are no website errors goes a long way. Don't lose your customers because of a preventable technical issue.
Return policy: Build trust with your customers about the product genuineness with a return policy.
Suitable payment method: A good range of payment options opens the website to a lot of customers.It's important to have options for the ease of payment such as PayPal, Apple Pay, Amazon Pay, and so on
A customer has abandoned their cart. Should I try to get them back?
The answer to this question is – Yes. Recovering an abandoned cart will not only boost your sales but also let you understand the reasons for sales dips when you follow up with the customer.
Even after making all the necessary optimizations, a potential customer might abandon their cart. The best way to get back a customer is a recovery email or an "Abandoned Cart Email". This can be achieved by capturing the email on the checkout page. Later, sending out well-timed emails to the customer.
DotDigital's Engagement Cloud is provided out of the box in Magento2. The dotdigital platform is an omnichannel marketing solution for B2C, B2B, and NFP marketers. It helps in importing data, building segments and triggers, and creating relevant marketing campaigns that engage customers on their favorite channels. Enabling the Engagement cloud in Magento2 will allow the website to send out cart recovery emails to registered users and guests alike. You don't need to get your hands dirty as Magento2 will handle all the messy work behind the scenes with very little configuration. Want to send a link to the cart in the email itself for a seamless experience for the customer? Magento2 has you covered with DotDigital's "Link to Cart".
Helping Customers to Reduce Cart Abandonment
The good news is that there are a lot of ways to reduce cart abandonment and we can help you minimize it and capture these sales before the customer leaves the site. To start with the website should be designed in such a way that the issues like complex checkout processes, security, payment options are all eliminated. Further, to this are the marketing tools that help you capture the customer after they leave the site. In both cases, finding out why they abandoned the cart can help retailers reduce future abandonment.
---
About the author
Tim Dolloff is Executive Vice President of Client Relations at Liventus. Connect with him on LinkedIn here.