Is your eCommerce site using the potential selling power of on-site search? In other words, is your site helping your users find your products faster? When's the last time you thought, "How is my site making things easier for my customers?"
Learn how to make your site work for you by watching the webinar video or reading the recap below. If you want to avoid your customers from leaving your site before even adding your product in a shopping cart, then think about on-site search. It's a powerful and simple tool to improve your site's navigability and helps your customers find your products.
Here's how: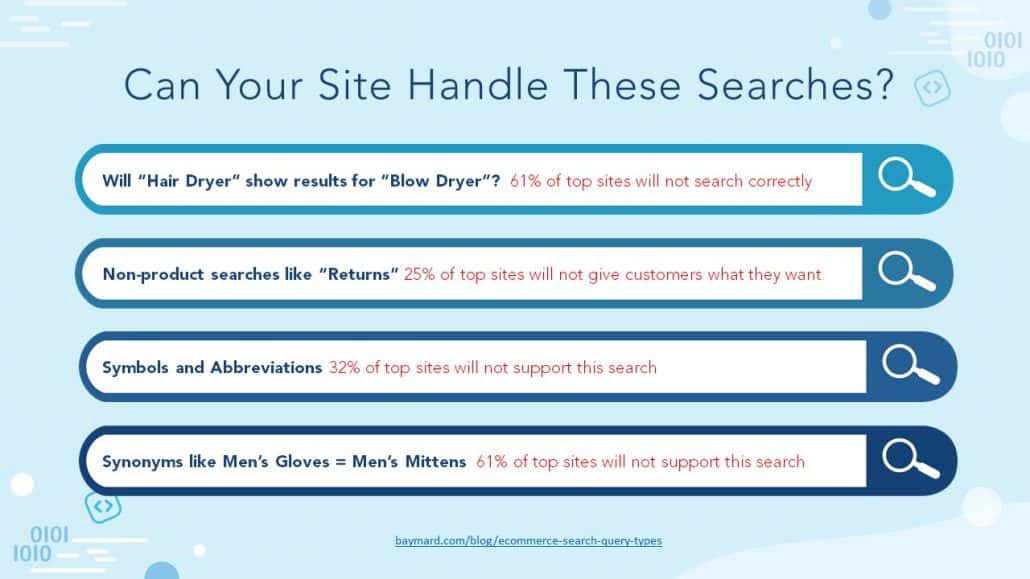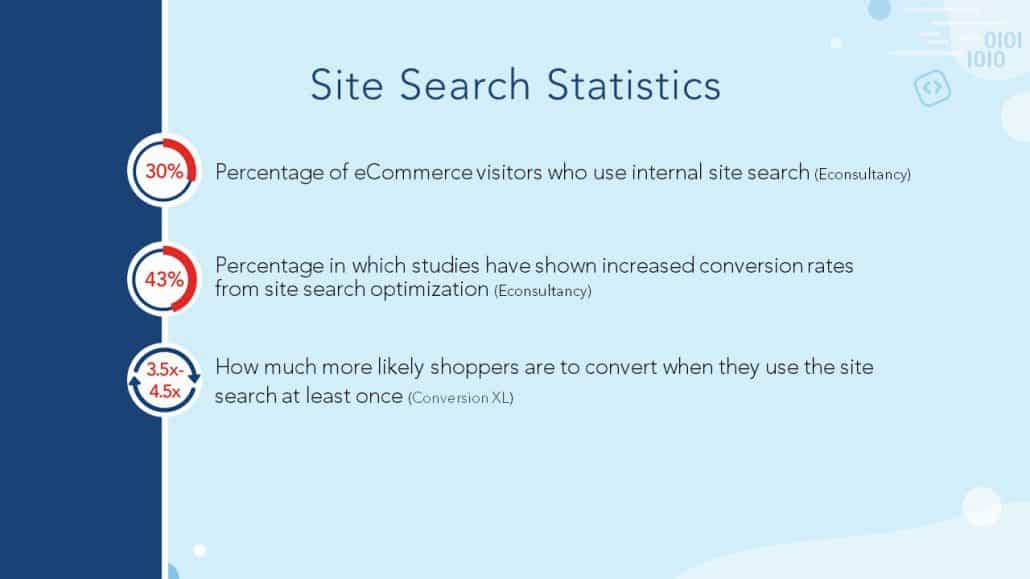 How do I know if people are using search on my site or using navigation?
It depends on the technology you're using to run your eCommerce site. Some platforms have built-in reporting. Magento, for example, has a report to show what terms people are searching for and if they are searching for something and get no results. Google Analytics will show you how often people are using search, which is not as robust but will give you some basic information.
How can search manage common misspellings or synonyms?
Allow for synonyms when a term doesn't match exactly on the site. Predictive search helps with synonyms and misspellings. A user starts to type a term and the search will deliver some expected results. It makes search faster and doesn't require users to know the correct spelling. Also, it shows other options that are available and may help quickly find the products they really want.
Elastic Search allows a configurable synonym that may be unique to your business. For example, you can force "foozball" to change to "foosball."
Symptom search is when they're looking for a solution to a specific problem. Like dry cough or stained carpet.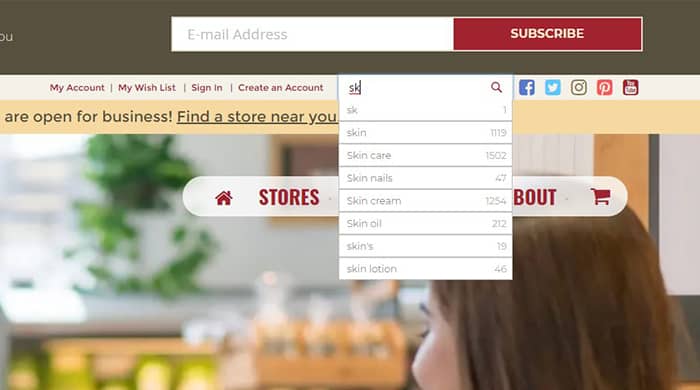 What are some easy things I can do to improve site search?
Implement Predictive Search
Regularly review searches and add synonyms or content related to 0 result searches
Properly weight search attributes (i.e. place a higher weight on SKU product name before description)
Provide filtering to help users narrow down their results
Location of the search box on desktop and mobile – easy to find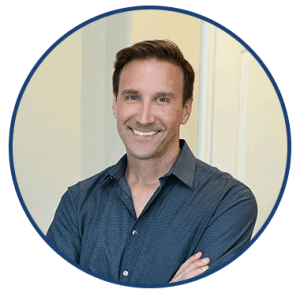 Webinar Host: Tim Dolloff
Tim Dolloff was the speaker for this webinar and answered questions asked by the attendees. A little about him, Tim has spent the past 25 years building custom software solutions, 15 of which were focused on the eCommerce industry. Tim founded a development firm in 2010 and sold it to Liventus in 2017. Joining Liventus at that time, Tim's primary focus continues to be eCommerce development. His customers rely on him to be an expert and a problem solver, helping them unlock business potential by leveraging technology solutions. He has worked with clients in the apparel, health foods, jewelry, entertainment equipment, and live theatre (broadway). He has been implementing websites on the Magento platform since it launched in 2007 (they are now owned by Adobe) but also has experience building completely custom websites and WordPress sites.