Introduction
Whether it's a digital design, regulatory policies, or business practices, website inclusivity continues to be in the spotlight. And why wouldn't it? We are heading towards a more digitalized world with the best elements of web design and development.
Research suggests that over 60% of sites in the US are not accessible to individuals with disabilities. It means a good chunk of websites are inaccessible and not inclusive to millions of Americans. In fact, one report analyzed over a million highest-ranked websites and found out that just 1% of sites had managed to meet the inclusivity and accessibility standards.
The fact of the matter is that businesses need to realize that inclusivity and accessibility open up new windows of opportunities. And the inclusive the website experience, the more attraction it can render in the digital space. It is the main reason web developers, UX designers, and SEO professionals continue to adopt new standards to make sites more accessible and inclusive for different types of users.
But, What Makes Up an Inclusive Website
Contrary to a popular misconception, accessible and inclusive site design works in tandem. Just like you cannot separate UI and UX, inclusivity and accessibility are interlinked and interdependent.
Starting from the conceptualization to planning and finally to completion of the site, you need to add a wide range of elements to ensure an all-inclusive experience. In layman's terms, inclusive site design boils down to "how" you address the concerns and needs of your target audience. And accessibility serves as a strategy to achieve inclusivity.
Most of the time, companies create websites based on their marketing campaigns. Now, there is nothing wrong with this approach, but it often leaves out inclusive, diverse, and accessible elements. Without these elements, you cannot expand, grow, and convey your brand message.
In 2022, it looks like equity, inclusion, and diversity have become the hallmark standards of the most successful sites. And how you amalgamate design, media, and content on the site for different types of users determines your site's success.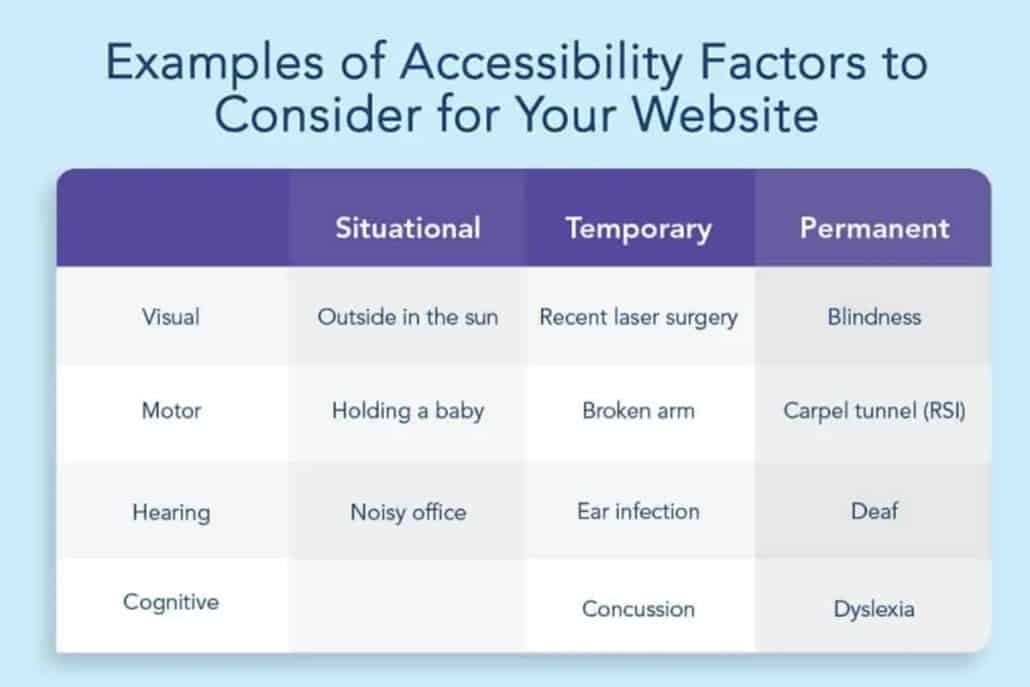 Best Practices to Create an All-Inclusive Site Experience
Now, let's take a look at the six best practices that can help you render a more inclusive and accessible site experience:
1. Integrate Inclusive Images
You need to extend beyond traditional stock images and low-resolution pictures that might confuse users. Instead, use high-quality and clear images with visible features of a person or object. Also, avoid stereotypical images that might have a double meaning and may come across as offensive to a wider audience.
Whether you realize it or not, cultural appropriation matters. So, add visual changes that are not out of date and in line with African Americans, Native Americans, and Asian visitors. In terms of visual communication, the core message on your site should be clear and neutral at the same time.
No matter what idea you want to showcase on your website, make sure the images you're adding have great representation. When it comes to inclusivity, your website should be abstract and diverse simultaneously.
For instance, diverse and abstract images make visitors feel included and allow you to roll out more customer-centric products. With abstraction, avoid realistic and detailed visual images that point to specific identities. Instead, use conceptual images with attractive human and object illustrations.
With abstract visual images, users will never feel out of place or think they're not included. On the other hand, diversified images should involve proper representation of identities with a direct and clear message. For instance, Airbnb shows the diversity of humanity on its website's imagery. It highlights complete visual representation and delights all communities.
2. Review the Content Structure of Your Website
It is no secret that content serves as a vital asset to your site. And useful content can make visitors more engaging towards your site. Opt for the most intuitive and informative content to turn potential customers into qualified leads.
Remember that over 250 million people across the world suffer from visual disabilities. So, make sure your site is structured in a manner that is readable to potential visitors with any visual impairment. Despite the nature of the content, structure it in a way that users with language, cognitive, and visual disabilities can read.
Ideally, you should break down the content of your site into small blocks with creative headers and sub-headers. It is the best way to make it easier for users to read and review website content. Follow and implement the standard guidelines of W3C to structure your site's content.
W3C refers to World Wide Consortium and involves international site standards for CSS and HTML. The W3C guidelines are all about providing more accessibility, readability, and support to people with impairment issues.
For example, avoid justified text and adjust line heights with suitable font sizes. You need to make sure your site's content has the maximum width. On average, you should keep 80 characters in a line. Similarly, your content should complement your background without stark contrast. When it comes to content structure, the simplest solution is often the best solution.
3. Digital Voice Interfaces and Dedicated Notifications for Users
One of the best practices to make your website more inclusive is to add a digital user voice interface feature on the site. It may sound odd, but it is a useful feature for visitors who are looking for content other than English.
Like Google Assistant, Siri, and Alexa, you can make automated adjustments to the user voice interface on your site. The trick is to get the cultural relevance right and make the digital voice assistance sound helpful, obedient, and supportive.
In some cases, the accent of a digital voice assistant creates an association with visitors. But despite what digital voice assistance you integrate into your site, avoid common stereotypes and add several voice options. On most sites, content is all over the place and often loses its actual meaning.
Again, when it comes to website content, there is no generalized inclusive rule. Instead, focus on specific touchpoints and then, add communication notifications. These notifications will establish direct communication with the users and help you draw the attention of more people.
4. Avoid Images and Visual Elements on the Site that Contain Text
Although many websites contain some form of text inside an image, it is a redundant practice and minimizes inclusiveness on the site. Traditionally, it would have been normal to create and add images inside a text, but developers and designers focus on high standards.
Besides, UX designers and developers are no longer bound by browser capabilities and coding limitations to add visually attractive layouts. Modern-day web design principles allow you to create a layered and appealing site.
But when an extraneous text comes into play within the visual elements or images, it creates confusion for users. And it is not just about compatibility ­– font size, placement, or font choice can individually befuddle the reader.
In many cases, adding text within the visual graphics or objects comes across appealing. On the flip side, a lot of this depends on the "right" design choices and your target audience. And most importantly, it negatively impacts the website's inclusivity and accessibility for users. For instance, brands often design sites with graphs, charts, maps, and images that create more accessibility issues.
And if users cannot even read the integrated text in an image or visual object, it dissuades them to check the site again. But if you have to add text inside an image, make sure to resize the image and size with proper visibility. You can check the resized image with text for compatibility on tablet, mobile, and desktop.
But still, when the browser gets smaller on smartphones, it would make it difficult for a user with visual impairment issues. The images and content on your site should have live text. Also, make sure to add alt text to describe various images and their importance.
5. Design and Integrate Proper Focus States
At the height of the digital era, many websites have blue-dotted outlines around their buttons and links. These outlines or focus states are important elements that improve the inclusivity and accessibility of the site. Your focus states should highlight specifically selected elements on the site and how those elements come across on each page. Remember, focus states are the outlines that you may have noticed on a website in the form of links, input fields, and buttons.
For instance, Wikipedia and Investopedia have the most simplified focus states. Although Investopedia's landing page appears better than Wikipedia's, both are visually not appealing. But there is no need to mask focus states from your site. Instead, utilize focus states with impressive design elements to improve your brand.
You can design your site's focus states that capture your brand's essence and create a more user-friendly and inclusive experience for visitors. You should navigate your site through the tab key to ensure focus states are visible on all form fields, links, and buttons. According to W3C, all elements on the site should have a minimum focus state of a 3:1 contrast ratio.
6. Check the Color Contrast of Your Website
UX designers are aware of the fact that the color palette touches on psychology and serves as an important component of the site. The wrong color combination and contrast on the site lead to a lack of inclusivity and accessibility. But the right color combination and contrast makes a site all-inclusive and captures the attention of all users.
It is one of the main reasons contemporary brands use minimalist design elements and a light color palette to not come across as distractive. With harsh color contrast, people with vision and impairment issues won't be able to check the content properly. For instance, a color-blind person would struggle to distinguish and check the design elements if the color contrast is minimal.
Not to mention, it would be difficult to make out text with a black or dark backdrop.W3C suggests that the color contrast ratio between the background and text should be 4:5:1. But if you use large text on the landing page and other web pages, then you can get away with a different color contrast ratio.
Still, the right course of action for site owners is to explore various color options. Opt for the color contrast option that complements the overall aesthetic and design of your website. When it comes to color, exploit or depend on a complex color palette to showcase your crucial information on the site.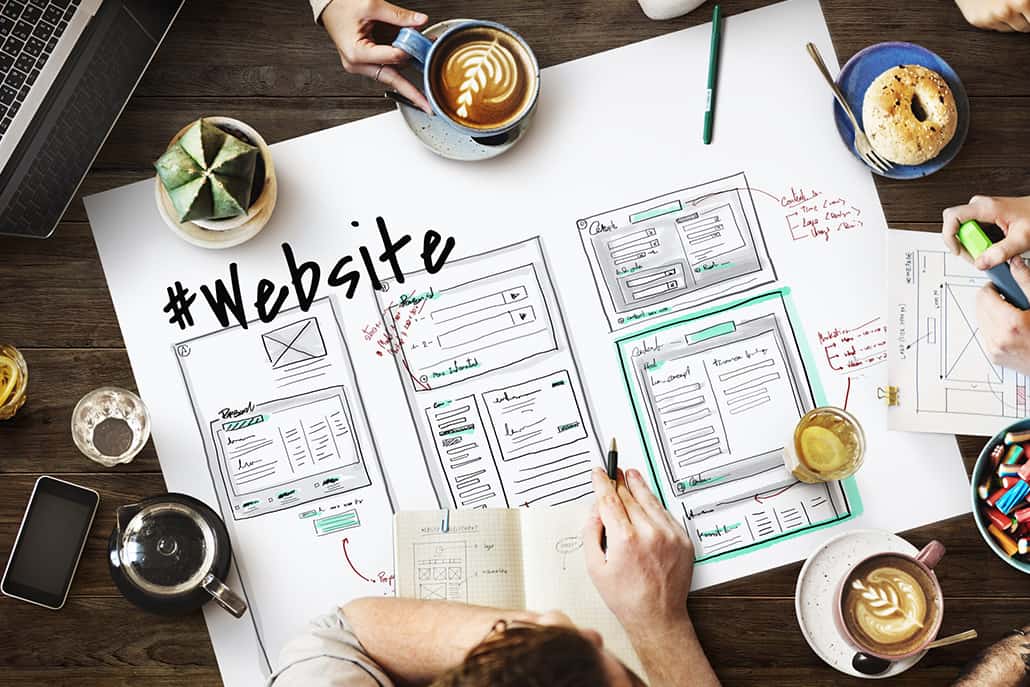 An All-Inclusive Website Experience: What Else?
Whether you use text or video, make sure to keep it simple. For instance, your content should be simple, concise, and clear on every single page. In the video, avoid dramatic or experimental editing that might startle visitors.
Moreover, don't use unnecessary jargon that might restrict your content to a bigger audience. Also, use description labels for form fields and create a proper glossary of terms used on the site. For the sake of simplicity, use lists for a different type of content and use videos or images only to clarify complicated ideas. In addition, avoid flashy or distractive UI animations on the site that create more inclusivity and accessibility gaps.
Don't Forget about Keyboard Navigation and Optimization
On top of correct content markup, make sure content is navigational with optimized keyboard support. Keyboard accessibility is crucial and makes your site more inclusive to users. You have to realize and recognize that there are people with visual impairment issues and motor disabilities.
In this case, a keyboard becomes their primary tool to navigate a site and communicate with the site's content. When keyboard navigation on the site is not optimized, it creates frustration for users. It could be something as simple as not being able to fill out a downloadable form or click a button on the site.
When it comes to keyboard navigation and optimization, your objective should be to give users more options to browse the most interactive elements of your website. The simple tab and shift-tab navigation is often ideal for users to navigate between buttons, fields, and links. Websites require more updates and navigational changes to become fully inclusive and accessible to all users.
Final Thoughts
When it comes to inclusivity and accessibility, there is still a lot of room for more progress. In fact, web developers and UX designers profess that there is an urgent need to step up the standards of website inclusivity and accessibility.
The objective of businesses should be to create dynamic, transparent, and equal websites that translate into an all-inclusive experience. It is high time for businesses to develop and design websites that are highly inclusive. In fact, organizations can use an all-inclusive website approach to draw the attention of more users and leave a more long-lasting positive impact.
The best practices to create an inclusive website experience are bound to create more industry-specific opportunities for organizations. Once businesses take this leap, it will significantly boost their site conversion rate. Besides, people don't want to experience convoluted sites in the digital age. In retrospect, take into account technical factors, design elements, and cultural relevance of your target audience to create an all-inclusive site experience.
---
About the author
Danielle Dolloff – EVP OF BUSINESS DEVELOPMENT
Danielle runs sales and marketing for Liventus. She is passionate about tackling new challenges and unlocking business opportunities.