Introduction
On Nov 10, 2020, Google announced their new 2021 Google Algorithm Update that favors the websites' page experiences. The latest update is commonly known as the Page Experience Update. These changes could impact the SEO and ranking of your eCommerce website. Being an eCommerce business, you need to act quickly to enhance your on-site experience to preserve your website ranking.
Here's how the new Google algorithm update can impact your eCommerce business and the strategies you can use to ensure your business thrives in the middle of this big transition.
What are Google Algorithms?
The Google Algorithm is the way Google evaluates the relevance, quality, and usability of a webpage. Several algorithms work together in a complex system to determine these for websites.
Fundamentally, Google wants to promote content that displays a high level of Expertise, Authoritativeness, and Trustworthiness.
This is known as the E-A-T technique. When your web page has these characteristics, it is more expected to be discovered and ranked highly if someone enters a related search query on Google.
So, what is Google's Page Experience update?
In Google's own words, it means…
The page experience signal measures aspects of how users perceive the experience of interacting with a web page. Optimizing for these factors makes the web more delightful for users across all web browsers and surfaces and helps sites evolve towards user expectations on mobile. We believe this will contribute to business success on the web as users grow more engaged and can transact with less friction.
Alternatively, they are looking for how user-friendly your website is.
This update aims to ensure that websites that rank at the top aren't creating poor experiences for the visitors.
The easiest way to think about this update is that user-friendly websites are bound to rank higher than websites that aren't user-friendly.
This change is the start of a significant shift in SEO.
The Core Web Vitals will facilitate Google to inspect the page performance for any given page. The Core Web Vitals comprise of three new metrics:
How will the Page Experience Update Impact eCommerce Website Rankings?
Largest Contentful Paint (LCP) is Google's page loading metric. It gauges the number of milliseconds it takes for the most prominent content block on the page to load. When this occurs, the page will show to be completely loaded to the visitor.

For instance, if the biggest block of content is an image, then the page won't appear to be fully loaded until the loading of that image seems complete.
First Input Delay (FID) is Google's page interactivity metric. FID gauges the amount of time (in milliseconds) it takes for a visitor to interact with a page by clicking any buttons that appear.

One instance of FID is when you are shopping, and a page appears to be completely loaded; then again, when you click Add to Cart, the button takes more time to load.
Cumulative Layout Shift (CLS) is Google's page stability metric. CLS gauges the time it takes for all the elements on the page to be entirely loaded so that when a visitor clicks on a button or specific element, the page doesn't shift.

To get a hold of CLS, imagine you are on an eCommerce checkout page where a Checkout button appears just above a Go Back button. If you understand you forgot to add something to your cart and click the Go Back button, but the page abruptly shifts so that the cursor ends up clicking the Checkout button, this is exactly what indicates poor CLS.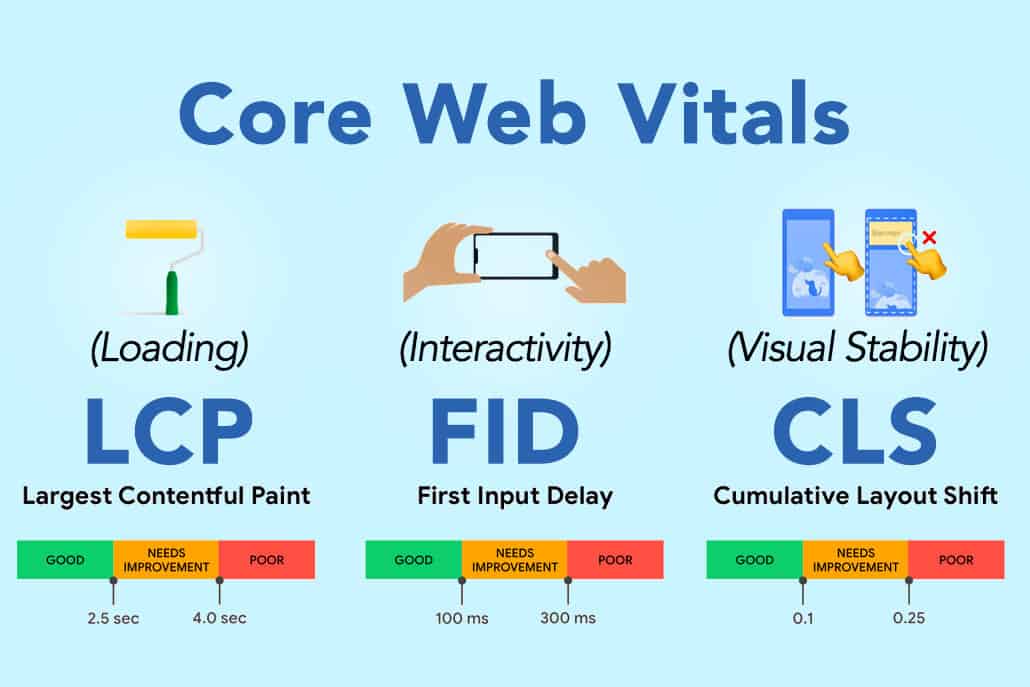 How will the Page Experience Update Impact eCommerce Website Rankings?
SEO is highly critical to any eCommerce business.
According to SERPWatch, 39% of global eCommerce traffic comes from search.
The page experience update encourages you to think exclusively and come up with pioneering solutions. It's not just about a general SEO approach in this case. UX will now be a more critical element in factoring in how high your eCommerce business ranks on Google.
If two different websites answer a search query, the one with poor UX will be displayed second, eventually reducing traffic and acquisition. But, because the effect of the update is comparatively transparent, your eCommerce business can be proactive now and make sure that you obtain optimal eCommerce rankings. 
What Should You Do To Optimize Your eCommerce Website With Respect To the Page Experience Update?
Emphasize the Page Experience (Encompassing mobile-friendliness, load times, and distinct CTAs)
You must begin by identifying areas on the website that needs enhancements. This can be attained by conducting a website audit.
Conduct Google's online mobile-friendly test and check the page speed insights to identify where the website needs improvements. Once fulfilled, take a deep dive into the following significant areas the Page Experience update will favor. You may want to take the help of a tech expert here.
Mobile-based search: In Q3 of 2020, mobile devices produced 50.81% of global website traffic. Consider making your website mobile-ready by reducing code, utilizing browser caching, and lessening the redirects. Web page design must be responsive and straightforward in every case, so it looks delightful on smaller screens.
Page speeds: Did you know? A lag of one second in loading time can reduce conversion rates by 70%. There isn't much room for patience online, so optimize HTTP requests. Also, check on caching and image file sizes too.
CTA optimization: Make CTA action buttons and pop-ups an organic part of the customer journey. Ensure they provide value and show the customer what they will get out of the interaction.
Becoming Accustomed to the New Update
The complete impact of the update is yet to be realized. Eventually, we'll witness how the new update transformed the landscape and compelled eCommerce businesses to adapt. As an eCommerce business that you are, you must do what you can now to be reactive to the update, and we can help! We at Liventus, provide end-to-end Magento support packages for improved website functionality. We can help you enhance the functionality of your eCommerce website and align it with Google's Page Experience Update.

Want to learn more on how we can help your eCommerce website with Google's New Update 2021? Reach out to us for any advice to help you respond to the page experience update.
If you have questions about finding the right technology partner for your business, contact Liventus today.
Tim Dolloff is Executive Vice President of Client Relations at Liventus. Connect with him on LinkedIn here.