Background
The world has pivoted towards paperless and digital processes, including official documents, tests, payments, and signatures. Thanks to the transformation that digitization has brought, we have the choice of signing documents securely without having to physically visit or use the conventional method of pen and paper.
Businesses have become dependent on e-signature solutions such as DocuSign after experiencing the cost-effectiveness, increased efficiency, and improved security offered by them. Now there is no turning back to the conventional ways of authorizing documents.
Are you looking for a Digital Signature solution? Or maybe you need some e-signature customization to match your exact business needs? Perhaps, you are curious to explore the top e-signature solutions for businesses such as DocuSign?
Discover everything about DocuSign's finest electronic signature software in this article for getting your documents signed quickly and easily.
Introduction to DocuSign
Whether you only need to sign a PDF occasionally or need a complete solution that allows your employees or clients to sign documents online, DocuSign is one such solution that fits your requirements.
The focus remains on crucial elements such as ease of use, platforms supported, types of documents supported, security, and cost – all of which have an impact on a platform's overall quality. Here is what DocuSign can do for you:
Streamline and automate your signing procedures
Improve customer service
Document management and record activity
Reduce turnaround time
Increase cost-effectiveness
While e-signatures are a necessity, what about the threats associated with them? The next question which might come to your mind would be, is DocuSign safe and legal? Where and how does DocuSign store its data?
Read on to know how secure is DocuSign and how integrating it with your business can boost performance and sales. We will also see the security technologies, policies, and practices that protect your documents and data within DocuSign.
DocuSign Security – Is DocuSign Safe?
With DocuSign's trusted security features, one can quickly sign and share documents. DocuSign electronic signatures are recognized as valid signatures by law and are often used in international commercial transactions.
DocuSign assists businesses in securely signing documents with features like tamper-proof storage, trustworthy document tracking, customizable watermarks, data recording, and more.
Logical and physical security
DocuSign upholds tight physical access control and round-the-clock onsite security. It conforms to industry-recognized standards including SOC 1, SOC 2, and ISO 27001and its use of xDTM and TRUSTeDocuSign. Users can save their documents, signatures, and forms to the DocuSign Global Network, where all parties can view them securely.
To further protect and secure its data, systems, and networks, DocuSign deploys advanced security software and hardware. To do this, DocuSign uses a centralized management system that manages production environment access using a two-factor authentication process. The best virus scanners and network management solutions protect this isolated production environment. In addition to this, DocuSign ensures that the electronic signature is secure and compliant by using the following methods:-
The signee's email address, IP address, and other details are all connected to the signature. You may verify the information at any moment by clicking the signature.
The contents of the agreement cannot be amended once it has been signed. Every modification is marked, and every party can see it.
DocuSign keeps track of everything that happens with each document, including when it was seen, where it was viewed, timestamps, email addresses, IP addresses, and more.
DocuSign follows internal privacy and data protection rules based on international privacy regimes.
Testing for security flaws and managing vulnerabilities
Secure coding standards are part of DocuSign's product development lifecycle that guarantees quality and integrity. Rigorous automated and manual code reviews are used to find security flaws. Additionally, DocuSign conducts penetration testing and internal and external vulnerability check.
Monitoring for security
DocuSign monitors its products from both – a security and operational standpoint. To make sure that DocuSign can be used without security exposure from any location by those allowed to use it, intrusion prevention and detection events are tracked. Customized notifications are sent to its operations and security teams to take quick actions.
Configurable security features
Users can customize the following functionalities in DocuSign:
A high level of assurance that only individuals authorized to access the related documents may do so is provided by multi-factor authentication.
Depending on your requirements, the Level of Signature feature enables you to set up qualified signatures that are in compliance with Electronic Identification, Authentication, and Trust Services (eIDAS).
The web page content is consistent with the product or service requesting a signature. A proof file offers an audit record of the transactions that take place within DocuSign.
Transfer and storing
In compliance with industry best practices, subscriber data is encrypted.
HTTPS access and data transmission to/from DocuSign
Anti-tamper features
Verification of signing
Systematic and unchangeable logging of signature data
Technology for digital certificates
Option to set the user's own data retention parameters
Complete end-to-end security
Customer information is kept confidential. Documents and data remain private and access is managed through a process.
Integrity: Every document is guaranteed to be tamper-evident and undamaged.
Availability: DocuSign's duplicated, geographically scattered infrastructure ensures constant availability, giving you the peace of mind that DocuSign's service will be available when you need it.
Legitimacy: Through the multifactor verification of signing, users can rely on the authenticity of signees.
Non-repudiation: The audit trail and chain of custody provided by the DocuSign solution provide proof that customer documents are technically, legally, and procedurally non-vulnerable.
Benefits of DocuSign E-signature Services
While most e-signature software solutions only provide only email support, DocuSign offers a wide array of support mediums. Phone, email, tickets, and training are offered as support for DocuSign customers. Besides being one of the most secure e-signing solutions, with DocuSign, you can also-
Accelerate your business: Securely send and sign agreements and confidential documents in a matter of minutes.
Improve your efficiency: Printing, signing with a pen, scanning, and uploading are all chores that are eliminated.
Enhance the client experience: Easy for you and the client.
Save money: Costs for paper, printing, faxing, and overnight postage no longer exist with DocuSign e-signature.
Reputation and trust: DocuSign is one of the first companies to offer digital signature services and has built a reputation of reliability ever since.
Accessibility: DocuSign Agreement provides strong cloud support – access it anytime, anywhere.
Easy payment options: DocuSign offers a monthly payment option for convenient payments.
Backed with AI, DocuSign's e-signing solution assess risks and uses AI-based contract analytics to extract insights from your agreements. Data-driven decisions can be made quickly. The secure solution also helps maintain a digital audit trail of all agreements with a tamper-evident certificate to ensure compliance with regulations like KYC/AML.
For which documents can DocuSign's e-signature solution be used?
DocuSign can be used for all contracts, offers, or documents between two companies where the US law is applicable if no explicit request for handwritten or "wet" signatures is required. Rental agreements, offer letters, sales contracts, permission slips, liability waivers, and healthcare documents amongst others are some of the common documents that you can sign electronically for free on DocuSign.
Are DocuSign's electronic signatures legally binding?
DocuSign adheres to the ESIGN Act's guidelines and regulations, as well as the United States' UETA (Uniform Electronic Transactions Act). In addition, the program complies with various national legislation across the world. The objective is to make DocuSign legal and enforceable in every country.
DocuSign has worked with over 250,000 firms to date, all of which support genuine electronic signatures, electronic records, and everything in between. On any given day, DocuSign signs over 1 million documents, all of which are legally binding. The following standards have been adopted by the company:
Allow the signer to give their consent to sign electronically.
All signatures should be linked to the signers.
Verify the identity of the signers using a variety of authentication methods.
Allow secure DocuSign document access.
Using a mix of secure system operations, you can keep all your documents safe.
Keep track of all signature activities.
To be honest, all electronic signature software solutions are now legally obligated and enforceable in the same way that hard-copy documents.
Where does DocuSign store its data?
DocuSign has two data rings, each with three data centers, one of them being the United States. It physically stores eDocuments for clients in the United States in the same geographic area where the related customer account is situated. DocuSign's product roadmap includes a new way to use the DocuSign eSignature service that will prevent personal data from being replicated all over the world.
To ensure further data storage security, DocuSign maintains a list of all the subprocessors utilized as a part of their products and services, including the activities and services performed by these subprocessors and their location.
How long are completed documents stored in DocuSign?
DocuSign stores your documents forever till you close your account. Purge envelopes that can be set up on a per Account basis through the Admin Console. You can delete an envelope manually. However, envelopes are not purged by DocuSign.
DocuSign supports formats like PDF, *.docx, *.xlsx, *.txt, and many others.
The focus lies on speeding up the transaction process, saving expenses, and increasing the visibility and control of your documents by integrating them with your tools and business processes.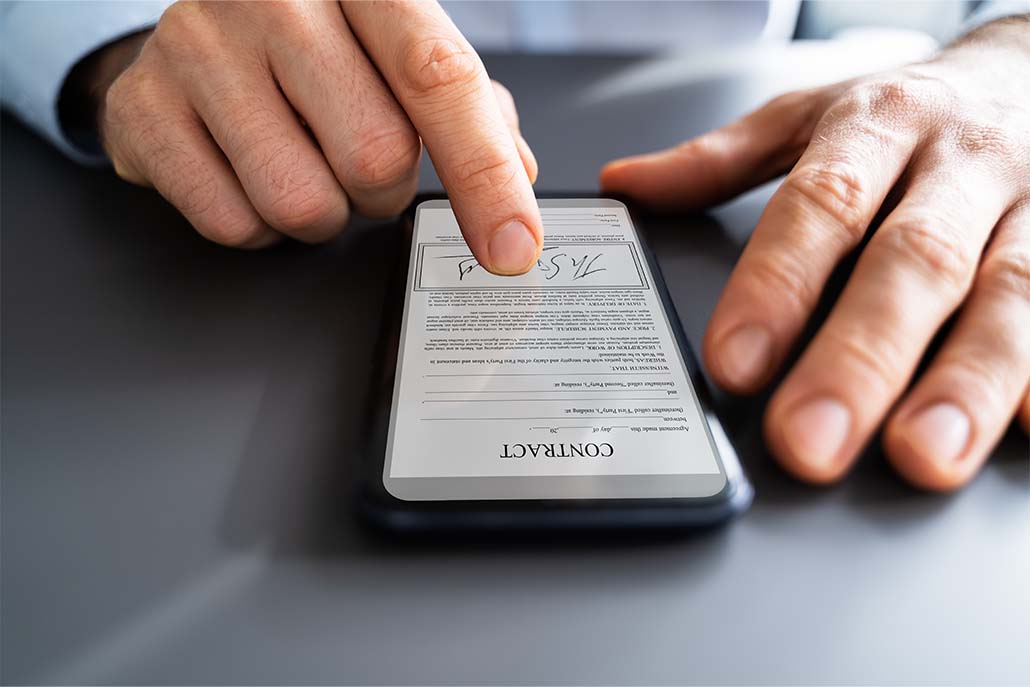 The importance of DocuSign in the Fintech Industry
According to recent studies, using electronic signatures in the banking sector may save roughly 1.3 hours on each transaction. DocuSign makes this possible by eliminating inefficiencies in document preparation, review, and negotiation.
Further, DocuSign Agreement Cloud for Financial Services is customized to offer convenience and speed up the sales process to suit the high expectations of the customers in the Finserv industry.
Here is how Finserv providers are empowered by DocuSign:
Retail banks and lenders can offer mobile-friendly account opening and onboarding services. They can ensure compliance with digital audit trails and certificates of completion by verifying signer identity and validating account data.
Commercial lenders can gather documents quickly and avoid re-entering customer data manually. With DocuSign's contract management software, you can streamline reviews, approvals, and complex procedures. It also allows you to organize, find, and monitor important documents throughout the financing process.
Wealth management businesses can streamline client onboarding and the production of investment agreements, custodian forms, and compliance papers. Financial wealth advisors and relationship managers are empowered with digital tools for modifying client information.
When it comes to obtaining customer consent, corporate banking and capital market firms can streamline workflows and send forms to internal and external parties with ease. Process, negotiate and store ISDA agreements and other trade confirmations securely and centrally with DocuSign.
DocuSign integration with CRM
Customer support, videos, languages supported, screenshots, user ratings, features, plans, and price and integration to CRM are among the most important factors to consider while purchasing a good e-signature solution.
DocuSign integrates with your CRM so that workflow remains seamless. It can be integrated with:
Microsoft: You can send agreements and approvals for signature directly from your Microsoft apps
Salesforce: Without having to ever leave Salesforce, you can accelerate your sales contracts and other agreements.
Oracle: Pair Oracle with DocuSign and streamline your workflow.
nCino: DocuSign and nCino make financing easier and faster.
Accenture Mortgage Cadence: Paired with DocuSign Rooms, Cadence helps streamline mortgage deals.
How do you integrate your CRM with DocuSign? Liventus offers Secure DocuSign Automation that creates a central repository for documents linked with an account. It transfers lease paperwork from CRM to DocuSign and back.
Plus, Liventus also makes it easy to build and save templates of commonly used documents with pre-filled signature fields, ensuring that the right document is delivered.
Clients who have not completed their e-signing formalities will also receive automatic reminders via Liventus Secure DocuSign Automation. This allows customers to electronically validate lease documents. Liventus creates a link between your CRM and DocuSign, storing all of their information safely.
How Liventus Can Automate Your E-signing Process
Liventus has nearly 20 years of expertise in the automation and leasing market. The CRM integration to DocuSign offered by Liventus is used by leasing and fintech businesses to drive their sales. It builds automation and eliminates the need for human effort in document creation. Liventus is one of the few enablers for businesses that require CRM integration with DocuSign.
All the top FinServ firms rely on DocuSign to streamline agreements. Automating and digitizing every transaction that involves accurate capturing of customer information is made possible with Liventus and its customizable services. If you are looking to streamline your business with DocuSign, reach out to Liventus.
---
About the author
Danielle Dolloff – EVP OF BUSINESS DEVELOPMENT
Danielle runs sales and marketing for Liventus. She is passionate about tackling new challenges and unlocking business opportunities.