Liventus, Inc. was proud to help and be a sponsor for the Venture into Cures event to support Epidermolysis Bullosa Research Partnerships (EBRP). Traditionally Liventus sponsors the annual "Change for Charley" event, which President Dan Levin helped start in 2017. Due to COVID-19, this year, "Change for Charley" opted to be a part of the 2.5-hour virtual special: "Venture into Cures" instead of the annual gala.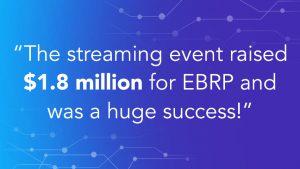 More than 150,000 viewers tuned in to watch special appearances by Judd Apatow, Bradley Cooper, Laura Dern, Billie Eilish, Jimmy Kimmel, David Letterman, Adam Sandler, and many others. To learn more about EBRP and see the impressive guest performances, you can stream the 2.5 hour special for free below.
EB is a genetic condition that attacks the skin resulting in wounds that never heal. Donations help fund the work of scientists who are actively working on a cure. In 2019, EBRP approved and awarded $8.5 million of funding to institutions around the world.
Patrons can see a list of funded projects on the EB Research Partnership website.
For those looking to get involved, donations can be made to the EB Research Partnership to further life-saving research.