Originally published 3/24/2040 – this article was updated with best practices for 2021. 
Anonymous cybercriminals stealing data and violating privacy haunt the nightmares of companies big and small. Thieves with sensitive information know they can hold even large enterprises for ransom.  Unsurprisingly, information privacy standards vary greatly when so many parties are trading data. Often, people who want to secure their digital assets don't even know where to begin. Data is portable, it's commoditized, and there's no single format you can file it under. It can be tempting to look at it all and say there's no point in protecting it.
Cybercriminals know that the way we exchange data is changing rapidly. They are continually exploiting the internet's patchwork of websites, databases, servers, cloud environments–the list goes on. Luckily for digital do-gooders, security experts have more resources than ever before to fight cybercrime. Cybersecurity professionals are continually developing new tools and methods to catch identity thieves and detect malicious software.
Cybersecurity's Humble Beginnings
Look at cybersecurity's beginning, and it might seem primitive compared to its current form. Self-copying computer worms and crude denial-of-service attacks paved the way for what would later become a household name: the dreaded "computer virus." The computer virus made people realize that they could lose control of their computer's data. The most successful response to this was antivirus software. Antiviruses acted as first responders to tackle breaches in data security. Modern antiviruses are impressive, customizable applications that scrub your computer's components for threats.
What Do Modern Cyber Criminals Want?
Modern cyber criminals target info they're confident they can safely access.  Attackers want to exploit a company's financial records, or perhaps a CEO's credit card number. Cybersecurity in 2020 protects against the misuse of information by being proactive. All skilled cybercriminals need is one misstep that compromises your information. You might think that something like sharing your password with a co-worker is harmless, but it's enough to compromise your company. Criminals can manipulate their virtual identities and pose as a company's IT specialist. A single breach of sensitive data can bring even large companies to their knees. Once an attacker has your company's private financial data, they can sell it to competitors and destroy your organization's reputation.
So, How Can We Fight Back?
The reality is that it's nearly impossible to keep your data secure online one hundred percent of the time. But you don't have to know everything about cybersecurity tactics to bolster your company's defenses. Hiring an expert in computer security is a huge step toward keeping your data more secure. Contracting with a cybersecurity firm that manages and secures your data is another good option.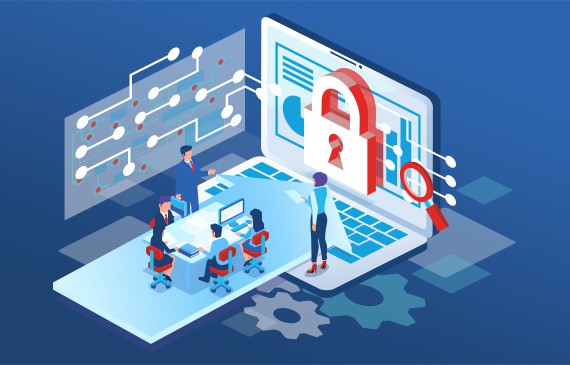 Defensive Measures Your Experts Can Set Up Right Now
Data security professionals will provide essential services like encrypting your company's servers, computers, and other networked devices. This step alone will make it much harder for cybercriminals to access and exploit your sensitive data. Having certified security professionals working in your organization will also prevent unauthorized employees from accessing encrypted information. A cybersecurity expert can help you create a hierarchy of privileges over your company folders and files. A hierarchy will make it clear who in your company can access what. Work with your experts to keep your antivirus software updated. Modern cyber-attacks may be a far cry from early malware versions, but so are antivirus programs that guard your machine. Consult with your security professionals to figure out what antivirus programs and license plans make the most sense for your organization.
It's ideal to have in-house security experts who can guide your cybersecurity strategy. But having cybersecurity professionals isn't enough to shield you from data breaches. An executive strategy that develops security at all organizational levels is crucial for long-term success. CEOs and executive management should spearhead the data management process and policy development while exploring security products and services.
My Company Has Been Attacked! Is All Hope Lost?
An anonymous criminal has targeted your company, and your worst-case scenario is unfolding. Your digital defenses weren't strong enough to guard sensitive information against attackers. It's a good thing you have a cybersecurity response plan for your organization in place. A thought-out, robust security response plan is your best tool in case of an emergency. But the best response plan keeps attackers at bay. Your plans should not only fortify your internal systems but also provide you with insurance coverage after an attack begins. Sophisticated, reliable response plans also use firewall layers. These firewalls protect your data from theft if attacks breach your first layer. The most proven way of accomplishing this is by using access controls, which give only trusted individuals access to data records.
I Have a Website but no Cybersecurity Team- Is it Too Late for Me?
You ideally want to implement security in your site's code before it launches. But it's not too late to improve your company's cybersecurity. Partnering with a reliable group of experts or a trusted company is the best way to get started. There are dozens of things to look for in a cybersecurity company, but a few key elements would be:
Continuity. If a company talks up its low costs but disappears after they install your software, they aren't the right long-term partner. Look for companies that have long relationships with their customers.
Ability to Scale. If your company is growing and scaling its security policies, you want a cybersecurity company that can grow with you. Small businesses should consider a consultant's growth potential.
Once you find a firm with security expertise, they should evaluate your current systems, including penetration testing of existing website or application code, a review of server security and network security, and validating that encryption certificates exist and are up to date. And for any new systems or software you implement, make sure there's a secure coding process in place to prevent future hacks. Business owners with security at the top of their to-do list can avoid headaches by partnering with experts.
Dan Levin is president and co-founder of Liventus. Connect with him on LinkedIn here.