Learn how shape your B2B eCommerce strategy to help to drive new leads and increase website conversions.
Watch the webinar above to hear from Tim Dolloff, EVP of Client Relations at Liventus, as he shares B2B eCommerce best practices to help boost your business.
Expand to an Emerging Market
The Global B2B market is $12.2 trillion which is 6 times as big as the B2C or business to consumer market. Yet we talk mainly about B2C eCommerce.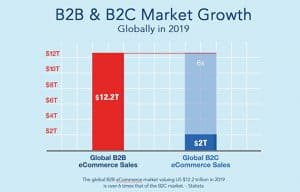 And often when we think of business to business we picture a purchasing manager looking at a black and white catalog placing a phone call to their supplier to order 10 more widgets. But that's not what's happening today.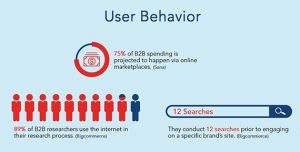 Another factor in B2B eCommerce is Millennials.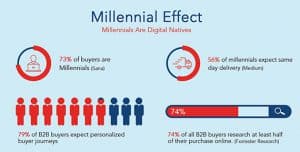 All this is saying is the B2B consumer is expecting the same experience they have when shopping for themselves. And we hope to help you today how to execute and deliver a website that your B2B expects.
How would the B2B consumer manage their users on my site? Since one company could have several users, how would I link them back to the same company?
Users that place orders must be associated to a company. The first user becomes admin user automatically they can then add users and manage users. Give specific permissions to allow specific access, like training/education or ordering or digital asset library/marketing materials
Many eCommerce frameworks will support this functionality, specifically we've used Magento successfully in the past.
Do I need to have a mobile option for my B2B customer
Yes, your B2B consumer may be accustomed to using different devices, For example retailers who have stores may allow the store personnel to place orders which doesn't always happen in an office, could be while they're moving around the store. Also, retailers with a small team or ones that are run by the owner could be placing orders at night or in off hours and having access from any device makes that easy.
One of our customers has more than 50% of their B2B traffic coming in from mobile devices.
How do businesses get access to my website? Is there a way to do it automatically or do I have to review each request?
You will want to delineate between B2C and B2B consumers based on pricing differentiation or even product offering. And you may want to do a manual check before allowing access if vetting activities take place like checking credit.
A simple portal with username, password, email address can enable this easily. Adding additional criteria like customer number and recent order number allows for validation and eliminates unauthorized users.
Am I a friend or foe of Amazon? How can I utilize the retail giant to benefit my B2B business?
Amazon gives you a new marketplace and access to a  bigger audience. It is definitely a  new retail avenue for you to sell your products. There are also downsides to playing on their platform. If your products aren't entirely unique or live under the umbrella of a brand, you will face steep competition on price. You will also have less control of the consumer experience and less access to your data. It really can depend on the type of B2B consumer you have and your product catalog but most of the time leveraging Amazon can be an advantage
How do I do personalization for my B2B customers? The same as I would for a direct to consumer site?
Much of the same personalization you use for your B2C customer applies to your B2B customer. Functionality like shopping recommendations based on history can be just as important for the B2B customer. Pricing can be a key element of personalization for the B2B customer unlike the B2C customer who all generally get the same price. Volume discounts or discounts based on type of business (non-profit, etc) make pricing a key element to distinguish on a B2B site. Other materials for the B2B consumer that are important are access to digital marketing assets but also in stock information or availability.
How do I integrate my B2B site with systems I use for order processing and my CRM?
For most B2B sites order management is not happening within the site so you will be leveraging an existing warehouse mgmt. system or CRM. Those systems will interface with your B2B site to provide access to the data which is done primarily through APIs.
How would you recommend enhancing the experience for a B2B audience when the site is primarily targeted to B2C? I.E. We have option to login for a dealer/distributor but they don't use it to order.
Make sure there's value for the B2B customer, if they login and see exact same thing as B2C site like pricing you're not giving them a compelling reason to make the switch. Help them understand the value of this ordering method by showing that the tools quick and easy to use for the B2B customer. Think about how they will find the products they want to order. Some benefits to moving your B2B customer online include better order accuracy, displaying inventory availability, and recommending complementary products. Having a robust and seamless B2B site can be a competitive advantage and make your B2B clients want to do more business with you.
Ready to implement B2B eCommerce strategy? We can help.
Your company doesn't have to work alone. With years of eCommerce technology expertise, contact Liventus for your eCommerce needs.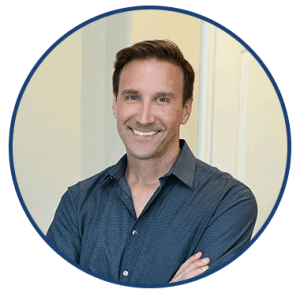 Webinar Host: Tim Dolloff
Tim Dolloff was the speaker for this webinar and answered questions asked by the attendees. A little about him, Tim has spent the past 25 years building custom software solutions, 15 of which were focused on the eCommerce industry. Tim founded a development firm in 2010 and sold it to Liventus in 2017. Joining Liventus at that time, Tim's primary focus continues to be eCommerce development. His customers rely on him to be an expert and a problem solver, helping them unlock business potential by leveraging technology solutions. He has worked with clients in the apparel, health foods, jewelry, entertainment equipment, and live theatre (broadway). He has been implementing websites on the Magento platform since it launched in 2007 (they are now owned by Adobe) but also has experience building completely custom websites and WordPress sites.