Introduction
It is imperative to select the most suitable eCommerce platform for your online store as it can be responsible for the success or failure of your business. An apt eCommerce platform helps improve business efficiency by streamlining the back end with the front end and enabling a good user experience.
Given the predominance of online sales, an excellent e-commerce website or platform does not just need to load quickly, offer an excellent shopping experience, and convert more customers, but it also needs to be powerful, flexible, secure, and easy to administer. This is especially true when it comes to content management.
Magento Vs. Shopify
There are all sorts of eCommerce platforms that are available but none of them are more popular than Shopify and Magento. Shopify is a subscription-based software that allows to set up an online store and sell products online while Magento is an open-source eCommerce platform that offers rich features and extensible code for large and more complex sites.
In this blog article, we will be providing you with the competitive guide on Magento Vs. Shopify will help you figure out which platform is best suited for your business.
Pricing
When choosing an eCommerce platform pricing is the most important factor to consider. The budget that you assigned for the eCommerce development also helps determine the best-suited platform for your business.
Magento is free to download and doesn't require any monthly subscription, however, it does require to pay for domain and a hosting provider which is as low as $10 per month. The pricing for Magento Open Source is flexible and it completely depends on selection. The pre-existing connectors and integrations can be combined with a wide variety of third-party systems like ERP, CRM. These could be found on Magento App Market or develop an all-new theme as per the need. However, with an open-source, you need to hire a developer to build your site which is an additional cost.
Coming to Shopify, pricing is subscription-based only. There are various levels of subscriptions that one can choose from starting from $29-$299 per month. The shopping experience is constrained by Shopify's template-based approach. "Easy to use" feature set as part of their pre-fed themes and templates are optimized for a narrow set of selling use cases. There is no subscription level that offers customization for enterprises and B2B eCommerce or B2C beyond simple selling use cases.
Magento is a powerful platform that is best suited for enterprise-level businesses, a business with a complex product catalog, or those who want the ability to customize the look and feel of their site. This factor quickly overshadows the lower licensing costs offered by Shopify which is suited for a very small business with a limited product line. The additional cost of hiring a developer doesn't hold any meaning if you are an enterprise-level company or a B2B seller with a complex selling case and require different functionality to be built-in. This is because Shopify, however, is less costly than Magento Open source cannot handle such a level of eCommerce development and functionality and the result will be a website that doesn't satisfy the business requirements.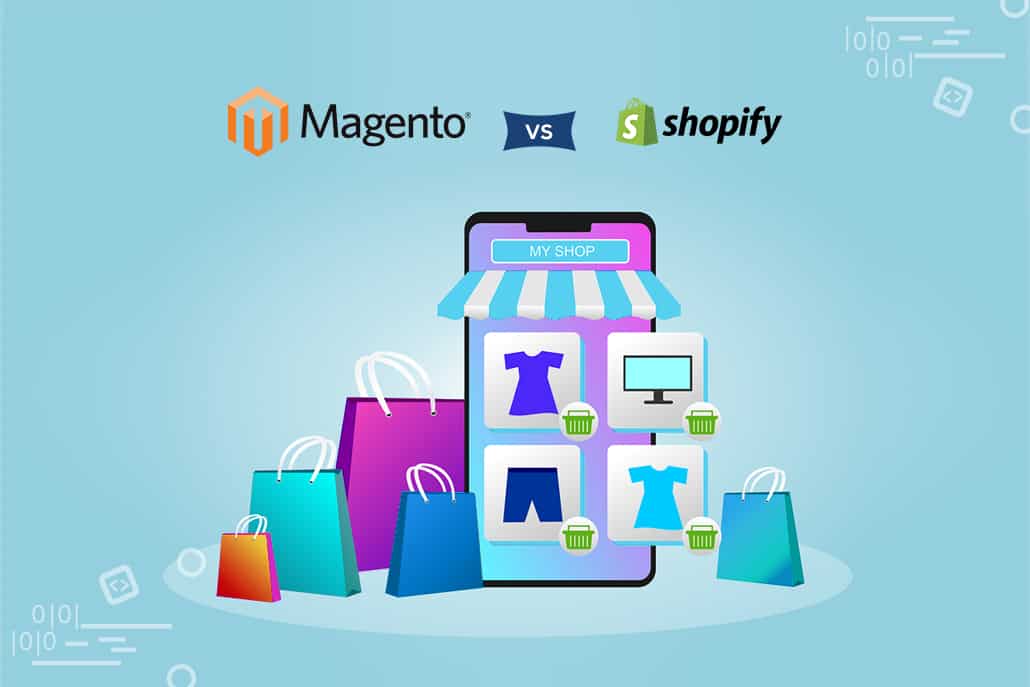 Themes and Templates
Shopify offers a wide range of pre-fed themes. While there are some free themes, there are 64 premium themes that one needs to purchase for a better user experience. This serves as an additional cost over the subscription fee. The shopping experience is constrained by Shopify's template-based approach
Magento themes offer fully mobile responsive themes in addition to a large variety of themes created by 3rd party developers. With Magento, you can even create your theme from scratch. In fact, building a completely custom theme allows you to have full control of the look and feel and can keep your site fast, as oftentimes 3rd party themes can slow down eCommerce sites. This is the advantage of using an open-source solution since it's open the possibilities are limitless. It gives has the flexibility to be able to create desirable themes for a website without being restricted by a set template.
Shopify restricts all its users to a pre-defined structure and set of pre-built templates. While this accelerates the onboarding and launch times for a store with small, simple product catalogs and the most basic purchase flows, it presents significant challenges for businesses that want to deviate even a bit from the templates and/or integrate other features that are not "out of the box".
Ecommerce Experience
In Magento, the merchant and the technology vendor maintain full control over the experience they deliver. With Magento, one is in control and can modify the platform without any restriction, unlike Shopify which restricts what can be modified, restricting the ability of your business to deliver innovation over time.
The flexibility of Magento allows merchants to scale out and evolve their eCommerce experience as their business grows and market forces change over time without having to change the platform later.
While it is true that certain aspects of Shopify stores can be customized via applications, however, there are many aspects that are restricted from customization for example checkout process. Magento's open approach allows merchants to customize any aspect of the website for a better customer experience. Magento has a much larger library of extensions, addressing a wider variety of use cases and enabling merchants to quickly enable features without custom development.
Shopify has a SaaS-based commerce solution that takes care of software and IT infrastructure. While there are many advantages to using a SaaS solution, there are tradeoffs. Shopify places restrictions on what aspects of the customer experience can be modified. While in Magento one can retain full control of the environments without the need to invest in and maintain their own IT infrastructure or use third-party hosting solutions.
Total Cost and ROI
Shopify's out-of-the-box feature set commonly necessitates costly add-ons or heavy modifications to meet business requirements, adding cost beyond just the base subscription. However, with Magento, you can get rich eCommerce features and an ability to handle a wide variety of selling scenarios while planning expansion without worrying about re-platforming in the future at a much more effective cost and improving the ROI that meets both future and today's needs.
Magento and its ecosystem serving as a Core Differentiator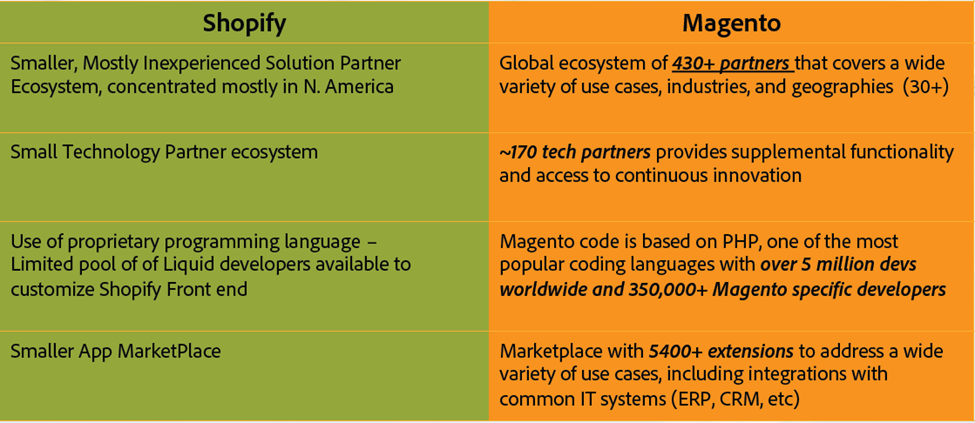 Conclusion
So which eCommerce platform is best, Magento Open Source or Shopify? It's a debate of open source versus a closed platform. At the same time, it's like comparing apples to oranges.
 For the price and the features, we give a slight edge to Magento Open Source providing a high level of customization. Since it's open it can have several third-party integrations for multi-sites, multi-brand, multi-language implementation. However, one can only work with pre-fed themes in Shopify and there is little flexibility offered.
Having said that many aspiring online sellers or sellers with a few selling points will find Shopify compelling for a variety of reasons such as easy execution and cost. For an enterprise or a B2B seller, Shopify may not be an apt platform because "ease of use" may serve as a big restriction in building a customized site that solves several issues at the same and offer the best user experience.
In either case, you know that you are getting a world-class eCommerce platform that can work wonders in the hands of the right development and marketing team.
---
About the author
Danielle Dolloff – EVP OF BUSINESS DEVELOPMENT
Danielle runs sales and marketing for Liventus. She is passionate about tackling new challenges and unlocking business opportunities.