The common person may think that the success of an eCommerce site relies on the variety of products sold, competitive prices, order fulfillment time, or even customer service. However, even though they are significant, eCommerce site search is the real tool that drives the user's buying experience.
As a matter of fact, up to 30% of the eCommerce site, visitors use the site search tool, and these are mostly shoppers who know exactly what they are looking for. Further, the study revealed that though the site search tool was utilized by just 15% of visitors, it was these visitors who helped generate 45% of all sales. Clearly, eCommerce site search solutions are your best bet when it comes to winning customers and boosting sales.
The search solutions for e-commerce sites are continually evolving to meet the ever-growing user and market demands.
This article will talk about key trends for e-commerce marketplace site search 2022. We will also understand the best practices for e-commerce site search and how e-commerce site search works in practice.
What Is an Ecommerce Site Search Solution?
An eCommerce site search solution is a search engine that is integrated or built into an eCommerce marketplace. It helps visitors and shoppers of the online store to precisely locate the products/services that they are looking for by matching their search keywords with your store's inventory. However, it is capable of — and should be — doing much more.
An e-commerce site search solution resembles Google search in several ways. The difference is that eCommerce search tools use where filtering and sorting are key components, whereas Google focuses on content and text search.
According to a study by Forrester, 8 out of 10 customers exit the eCommerce website if they do not find useful results and transparent product information or find it hard to navigate. They probably will not return – which clearly means lost business.
Why Does Site Search Matter in E-commerce?
In 2021, a report by E-commerce Trends 2021 suggested that 68% of industry experts expect to improve their eCommerce search. Additionally, 3.1 out of 5 people were satisfied with site search solutions. So obviously there is a great opportunity in using the site search and keep up with the latest trends in eCommerce site search solutions.
Here is why you should adopt the best practices and top trends of e-commerce site search solutions:
1. Higher conversion rates
On-site searchers help in driving 30-60% of all e-commerce site revenue. An eCommerce site solution makes it easy for customers to discover products on your online store. It is a good idea to make their buying journey easy by providing a direct path to the products they wish to buy.
If you want to get started with site search or are looking to improve your numbers, then seek professional help from experts at Liventus who have the knowledge and skills required to turn visitors into customers. Liventus offers complete eCommerce solutions, including UI/UX, marketing campaigns, and even site search solutions for an eCommerce website.
2. Enhance customer experience
Some customers know exactly what they are searching for and will visit your marketplace to explore. However, some may need assistance narrowing it down. This is where on-site search plays a major role. The search experience could make or break your consumers' loyalty. Users who are equipped with search bars are more likely to make purchases.
3. Make better decisions
Using analytics, you can get insights into user needs and preferences. This information is priceless. By using this data, you can further generate analytical reports that show you which products are getting popular, allowing you to adjust your marketing strategies accordingly. You can learn what your customers wished you could have sold them. Consider adding such items to your inventory if you notice an increase in searches for a particular brand or item if you currently do not have it.
Additionally, an eCommerce site search tool helps you learn what words or phrases your customers use to search for a certain product. For example, they may frequently by using the term 'thermos' for a vacuum flask. Liventus addresses such key issues in eCommerce solutions that work to determine where you may need to add or change your strategy. The eCommerce site search solution offered by Liventus is driven by innovation, and updates and upgrades are made instantly to your website.
How to choose an eCommerce site search solution?
When selecting an eCommerce search solution, the key trends for e-commerce marketplace site search must be considered, given that the search methods are evolving. Navigation (dynamic filters and facets), intelligent autocomplete recommendations, NLP, advanced stemming algorithms, extensive analytics, and other features should all be included to make your eCommerce site search effective.
Companies that do not have an e-commerce development team or wish to employ their development teams for their other important tasks can choose a third-party search provider such as Liventus. Be it a small or large retailer, Liventus has a custom solution for businesses of all scales. While larger online stores can tweak and add features based on their needs, smaller ones can start using it directly with minimum implementation.
As a third-party search provider, Liventus introduces innovative user-friendly search solutions. The experts follow the best practices in the industry to deliver exceptional results using their eCommerce expertise.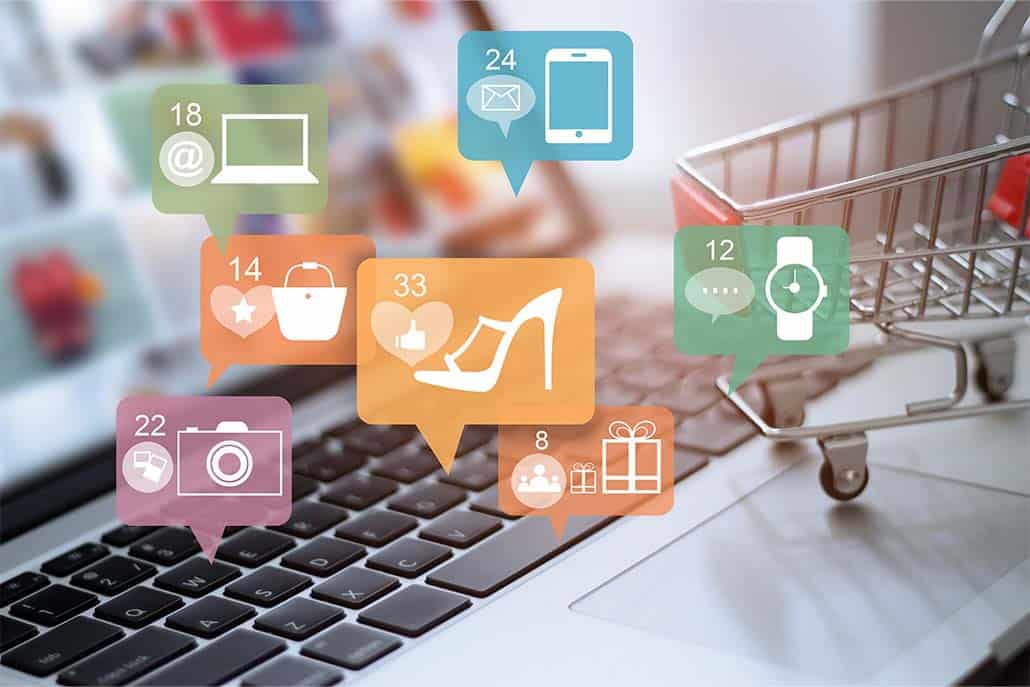 10 top trends of E-commerce website search solution
Providing meaningful experiences has become a priority for e-commerce businesses since competition is joining the market every day. Older practices of site search have become redundant and hence, it is necessary to evolve site search to lead high-intent shoppers through the funnel seamlessly. Here are the top 10 trends of e-commerce website search solutions that will drive your sales in 2022: –
1. Customers search from multiple platforms
Users may visit websites from different gadgets, including smart speakers, laptops, tablets, and mobile phones. Businesses frequently devote time and resources to enhancing the online site search functionality while ignoring the possibility of different channels. Users will only continue interacting with your eCommerce website if it is easily navigable, compatible, and organized.
As a result, cross-platform search optimization for e-commerce sites is more important than ever.
2. Standardization of the search bar
Businesses are starting to see the value of implementing certain fundamental practices as the search tool has evolved into a cornerstone of the e-commerce website.
Placing the search bar in the same spot on every page, providing a magnifying glass for enhanced visibility, and including placeholder text (or microcopy) within the bar to encourage users to search are some techniques that have streamlined the user experience.
3. NLP and Search Accuracy
The ability of computer software to understand spoken human language is known as natural language processing or NLP. Accuracy is vital in search solutions, but the subtleties of language can make searches far more difficult.
The search solution for an eCommerce site should ideally be able to comprehend and distinguish between a wide range of queries. Below are a few of the many different results that a site search algorithm must juggle –
Singular and plural queries – A site search engine should effortlessly adapt to both singular and plural forms of a product query. For example, vegetables chopper and vegetable choppers should produce the same result.
Autocomplete – Autocomplete feature (also known as autosuggest) generates several popular search terms to produce results when a user gives an input. Customers may click on the option that best fits their search criteria, which speeds up the search process. This eventually leads to better searches that increase sales by up to 24%
Product recommendations based on related searches – Popular search recommendations on e-commerce websites are common now. E-commerce marketplaces can utilize this feature to show consumers looking for comparable things.
Within the context of the search experience, it facilitates the customer's discovery of new items which gives an opportunity for cross-selling and upselling.
For example, someone looking for a specific pair of Jordan shoes such as Air Jordan 6 Retro cactus jack, could likely be interested in exploring Jordan Retro 6 Infrared model, which can be included in 'You might also like.'
4. Voice search
The popularity of voice-based assistants like Siri, Alexa, and Cortana is already gaining ground. However, there are many challenges associated with voice-based searches, such as overcoming the challenge of surrounding noise, UX, etc. Accuracy and speed are again important here as any delay can ruin the search experience.
Although not so common across eCommerce presently, we cannot ignore voice search integration. Consumers are becoming increasingly accustomed to speaking to their devices. To make the experience as user-friendly as possible, eCommerce businesses will need to customize search and content to natural language queries.
5. The role of big data
Big data is becoming extremely essential in creating personalized experiences. According to research, 48% of customers spend more when they receive a tailored experience. Additionally, users that stay on your website longer may find more products and may make purchases.
Even though two distinct users may enter the same search terms, they may be searching for two totally different things. For example, two people looking for 'black shoes' – where one may be looking for women's black shoes, while the other may be looking for men's black shoes.
Here is where personalization comes into the picture. More e-commerce websites are embracing customized results, which let past actions, user profiles, and preferences affect the pertinent items or material that customers see. Thus, a female user would most likely see women's black shoes on top results and likewise for a male counterpart.
6. Chatbots
Chatbots engage with customers in a manner like that of a salesperson in a physical store. The modern consumer is impatient if they cannot find or make a purchase in a matter of clicks. A chatbot may intervene at this point to keep the deal going.
Chatbots using AI can respond to 80% of frequently asked customer questions. Additionally, if it is unable to resolve the problem, it will immediately forward the request to a live chat agent. Users can learn about offers and the advantages of making payments online from a bot.
7. Immersive experiences
Nike started using augmented reality in 2017 to enable customers to visually test shoes before making an online purchase. An immersive experience will likely grow more popular as this technology becomes more accessible to more e-commerce firms.
During the pandemic, beauty brand L'Oreal collaborated with Facebook to create augmented reality experiences for its brands. It acquired augmented reality company Modiface to develop augmented reality-powered services for its brands that integrate with Facebook camera products, such as makeup try-on. This enhanced the consumer experience and increased e-commerce sales.
8. Visual search
Visual search is still comparatively new to the e-commerce environment, much like voice search. However, its potential is simply too big to ignore. Consider allowing customers to upload actual product photographs to your website so they can use them to find comparable things. The results would be exactly what they were looking for.
A study estimates that by 2023, the global market for visual search will be worth $14.72 million.
Undoubtedly, visual search offers a superior search experience over the conventional text-based search, which forces users to sometimes think hard about the words to search for.
Pinterest was one of the first websites to use the visual search feature in 2015. With over a 150% annual growth in searches, its users now perform about 600 million visual searches each month. Because of this, Pinterest was able to establish itself as a top destination for visual search, and many businesses have since imitated it.
Ikea is a wonderful example, since the firm made a wise decision to combine its catalog with Pinterest's visual search feature.
All the key players agreed that visual search was an important development that must not be overlooked. Amazon also unveiled Styles Snap, a search tool that aids online shopping.
9. Typo Tolerance
Typo tolerance allows users to make typing errors and still locate what they came looking for. It takes into consideration the human faults associated with search. Words that are spelled similarly to the query are still regarded as matches, which is crucial for smartphone users who are using cramped keyboards.
Sometimes, certain words are spelled differently in other countries. To cater to the international audience, who might not be familiar with the proper spelling of a word or spell it differently in their language (eg: nebulizer can be spelled as 'nebuliser' in some countries), it is essential to consider all possible spellings.
10. Merchandizing Search Results
Even though eCommerce sites frequently provide some type of on-site search, many choose retailers to choose not to utilize. This happens due to the lack of merchandising choices for the search results.
Online store owners sometimes are unable to alter the order in which goods are shown or exclude categories, making the results page more of an "all or nothing" decision.
Thankfully, it need not be that way anymore. By enabling online merchants to assign different "weights" to specific items and their qualities, new and innovative technologies are now accessible in eCommerce site search tools. This gives way to appropriate "searchandizing" and gives them greater control over which results are shown and when.
A good eCommerce site search engine lets you choose which categories to display first depending on a variety of factors, such as the volume of sales, the product click-through rate, stock updates, trending goods, and more. AI algorithms may be used to determine all this data. To order goods by popularity or season, you can select to display just those items that match all relevant questions.
Working with a knowledgeable, committed enterprise-grade eCommerce search provider such as Liventus can make all the difference, when it comes to boosting sales, growing conversions, and delivering customer satisfaction.
---
About the author
Tim Dolloff is Executive Vice President of Client Relations at Liventus. Connect with him on LinkedIn here.