Introduction
Prior to the Covid-19 crisis, many businesses viewed electronic processes as nice-to-haves rather than a necessity. Things took a turn and digitalization became a necessity post the pandemic. It brought with it promises of improved borrower experiences, increased capital efficiencies, and lower costs.
eSigning and eLeasing during Covid-19
Many companies allow their employees to work from home or, in some situations, to live in someplace for several weeks. A business cannot stop transactions or operations for an extended period of time. Thus, e-signature software features come to the rescue that makes face-to-face or traditional working methods redundant and infeasible.
The leasing industry requires extensive documentation and underwriting, which rattled the lending industry during the epidemic. Productivity and the impact on a company's reputation improved with the rise of automated leasing or e-lease solutions. With social distancing and remote work culture, managing documents, which includes printing, signing, and scanning signature documents before uploading them to the company's system has become simple. Since electronic leasing (eLeasing) has gained popularity, remote back-office processes like application reviewing, underwriting, and others have become much more streamlined.
What are e-signatures and DocuSign?
An electronic signature is a piece of data attached to related electronic data and is used to confirm that the intended signer's identity was validated. It confirms if the conditions of the document were altered after the signature was added. eSigning has made things simpler for the banking system including financial systems which are into leasing.
Electronic signature providers like DocuSign employ a mechanism called Qualified Electronic Signature (QES) or Advanced Electronic Signature (AES) to create eSigning solutions. It is the safest electronic signature currently accessible.
DocuSign can be integrated with your CRM. It lets you cut down on time and improve accuracy by picking up your lease documents from your CRM for fast and simple execution. It stores frequently used documents with preset signature fields. It authenticates users with personal questions. The secure eSigning software also tracks the signing process with status notifications and automatic reminders.
Benefits of E-signature Services for Banks and Financial Institutions
Various industries have embraced digitization. Recent advancements in mortgage finance, such as remote online notarization (RON), have enabled contactless closing. The US Small Business Administration made small-business finance remote and quick. Contactless test drives, closings, and deliveries are becoming more prevalent in the e-Leasing industry.
Organizations entirely running on paper-based processes, and which had never planned for digitization, had to take a quick plunge into the digital world during the pandemic to fill the gap in their digital business capabilities and enable business continuity.
Increase efficiency
The lending process can be a long, drawn-out ordeal, which can be equally frustrating to the customer and the institution. Many loan applications filled out by a borrower will require signatures from multiple people and businesses. When agreements are sent out on paper or via fax, it can be challenging to know where customers are at in the signing process.
Electronic signatures allow for greater transparency for institutions to see where customers are in the signing process, giving bankers the ability to take action to move it along the process by sending reminder emails or sending it to a different signer altogether. As an added benefit, electronic signatures help foster customer satisfaction. When borrowers can utilize digital signatures, they don't have to take time out of their schedule a visit a branch to sign anything or turn in any paperwork.
2. Improves security
Signatures can readily be falsified and tampered with on paper documents. Even if documents are safely stored in filing cabinets, they can still be stolen, lost, or misplaced. Signature verification and storage are more secure with electronic signatures. A completed copy of a document is returned to the sender as soon as it is signed.
Financial institutions are at a point where they must accommodate the growing trend toward self-service while also maintaining personal ties with consumers. Electronic signatures reduce the time and effort required to have documents signed, allowing financial institutions to focus on their customers and growth.
3. Streamline back-office banking operations and decrease transaction time
e-Signing software like DocuSign reduces expenses on printing, scanning, or faxing by signing documents electronically. It gets more work done by cutting downtime on lengthy paperwork. Word files can be customized with tags that will be automatically converted into fields.
4. Device syncing
eSigning solutions for banking allow you to be productive on the go and sync the software to your phone or tablet
Adopting e-signature platforms and how reliable are they
Things to consider before implementing electronic signatures:
Maintain a current and easily accessible list of authorized signatories. If necessary, approve any more signatories.
Create a formal internal e-signing procedure/policy, and think about including any anti-fraud controls and compliance procedures.
To make the process go more smoothly, consider adopting a cloud-based e-signing platform and a signatory authorization platform.
If you're unsure, consult with legal counsel to see if an e-signature is suitable for your transaction.
Electronic Signatures becoming the norm during COVID-19
Cybercrime has become a serious concern for individuals, organizations, and society during the last few years. The fundamental motivation for such attacks is the widespread use of the internet and the expansion of digital services, which attract profit-seeking criminals.
Due to the rise in remote working, which has switched the focus from depending on paper-based documentation to the digitalization of the transaction process, the electronic signature platform market is expected to grow at a positive rate following the outbreak of COVID-19. Businesses seek business processes that are seamless, efficient, and accessible from any location. One of the processes that businesses are considering moving online is document management.
Electronic Signature Laws
The Uniform Electronic Transactions Act (UETA) of 1999 established at the state level the legal equivalency of electronic records and signatures with paper writings and signatures. New York is the only state that has yet to enact a version of the UETA. Instead, New York has the New York Electronic Signatures and Records Act (NYESRA), which states that a person may use an electronic signature in lieu of a signature attached by hand.
What to consider while adopting eSignature software for financial institutions
Beyond understanding the rules, banks and credit unions should consider how electronic signatures affect their industry in particular. Banks, insurance providers, lenders – or practically any business for that matter must consider the following things while implementing an e-Signing and e-Leasing software:-
Risk: It is critical to balance state and federal regulations with your company's risk appetite. Many banks offer or sell loans as collateral. What happens if a loan completed electronically in New Jersey under UETA is sold in New York, where there is a different state mandate? Consider your items and various business lines. A hybrid approach could be appealing. A bank may accept eSignatures on loan documents it retains on its own, but physical signatures are required in other lines of business that transcend state lines or involve different businesses.
Authentication: Financial organizations may need identity verification of the signer to ensure valid eSignatures. A Certificate Authority (CA) can help with this. Before signing, CAs independently authenticate a customer's identity and issue a digital certificate as proof. CAs can be formed by community banks and credit unions, although third-party solutions are generally a preferable alternative at scale.
Storage: Compliance extends beyond state and federal regulations. It's critical to implement technology that protects digital documents on eSignature solutions for banks and institutions. Consider the following questions:
How will electronic signature documents be kept?
What security protocols will these documents be protected by?
How will these documents be maintained and distributed throughout the company?
What kinds of catastrophe recovery plans do we have in place? What city are they in?
The End of the "Wet Ink" Signature?
The procedure of providing PDF signing papers has rendered most in-person contract closings obsolete. In the age of Covid-19, the "new normal" continues to accelerate the use of eSignatures. The Federal Reserve Bank of New York, for example, has declared that it will now accept some documents using electronic signatures in certain circumstances.
With the increased use of eSignatures in the current environment, such practices are likely to continue once life returns to normal and offices reopen.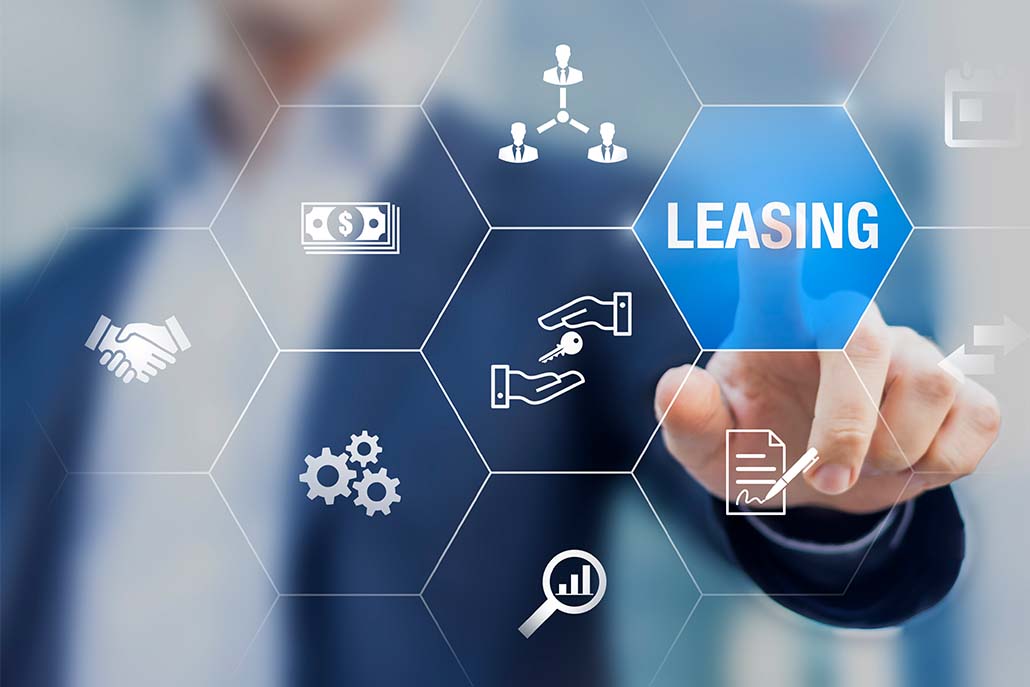 What is E-Leasing?
In the leasing business, automating your paperwork such as applications and lease agreements can bring wonders. Utilizing e-signatures for frequently used documents like lease agreements quickens the process and eliminates the need to meet with customers physically to gather wet signatures.
E-leasing in the Covid-19 World
The rate of digital adoption in the leasing automation business has accelerated dramatically as a result of COVID-19. E-signature technology has helped lenders digitize the lease application process and eliminate the need for face-to-face communication. This accomplishment has piqued interest in completely digitizing the lease closing procedure.
The shift from paper files to digital assets based on e-signed lease papers is a game-changer for lenders. Leases that used to take days or weeks to finalize and the fund may now be completed in minutes with significantly higher trust when using eSignatures throughout the lease's lifecycle — thanks to the epidemic that prompted the shift.
7 Reasons to E-Sign your lease
o Saves time
o Saves money
o Boost occupancy
o Better Reviews
o Go Green – It is a paperless process.
o Advanced security
o Gives more control over documents
How eSignature and eLeasing work in financing
E-signing and e-leasing are becoming increasingly popular among equipment finance providers. E-signing and e-leasing have significant long-term advantages over traditional wet-ink-signed paper papers, in addition to the necessity for contactless, digital transactions during the pandemic.
When properly set up, they increase efficiency by allowing contract signatures to be performed in minutes rather than hours. Digital processes prevent signing from continuing until all signature and initial fields have been correctly filled out. According to anecdotal evidence, the cost savings from removing overnight delivery charges outweigh the expense of implementing e-signatures. Customers benefit from improved convenience because documents can be sent simultaneously to several people in different locations.
E-leases aren't just electronic copies of handwritten documents. Digital papers are distinguished from photocopies or scans of lease documents by the procedure by which they are electronically signed, saved, and managed. The use of a front-end vendor like Liventus to authenticate and verify the identity of the person who signed the document is a requirement of e-signature solutions for financing businesses. The legal and regulatory requirements for uniqueness and negotiability of a document as a digital financial asset are met by e-vaulting it in a safe, trusted environment.
Three material statutes govern the use of digital documents. Article 2A of the UCC, the Electronic Signatures in Global and National Commerce Act (E-SIGN), and the Uniform Electronic Transactions Act (UETA). E-SIGN is a federal law that establishes a nationwide regulatory framework for electronic signing and contracting by preempting non-uniform state versions of the UETA. UETA is a model state law that enables the legal enforcement of digital signatures and records in general. UETA protects the validity and enforceability of an electronic signature, contract, or other records.
Article 9-105 of the UCC establishes regulations for using digital records as electronic chattel paper for non-real estate assets, and it was the first law to apply "control" rather than "possession" for security interest priority under the UCC.
How Liventus can help
E-Signature Solutions by Liventus – Liventus can help you connect your CRM to DocuSign to access your lease documents in one secure location.
Credit has approved your leasing customer. All their data is in your CRM:
Liventus builds a connection from your CRM to DocuSign.
Send all your documents from DocuSign and get fast and secure eSignatures.
Smart Results with Liventus Financing and Leasing Automation – At Liventus, we target specific problems that are holding back your leasing business. Our goal is to provide a clear pathway to success and remove future obstacles effortlessly using our e-leasing solution. How do we do it? Our services identify, measure, and fix complex issues one phase at a time.